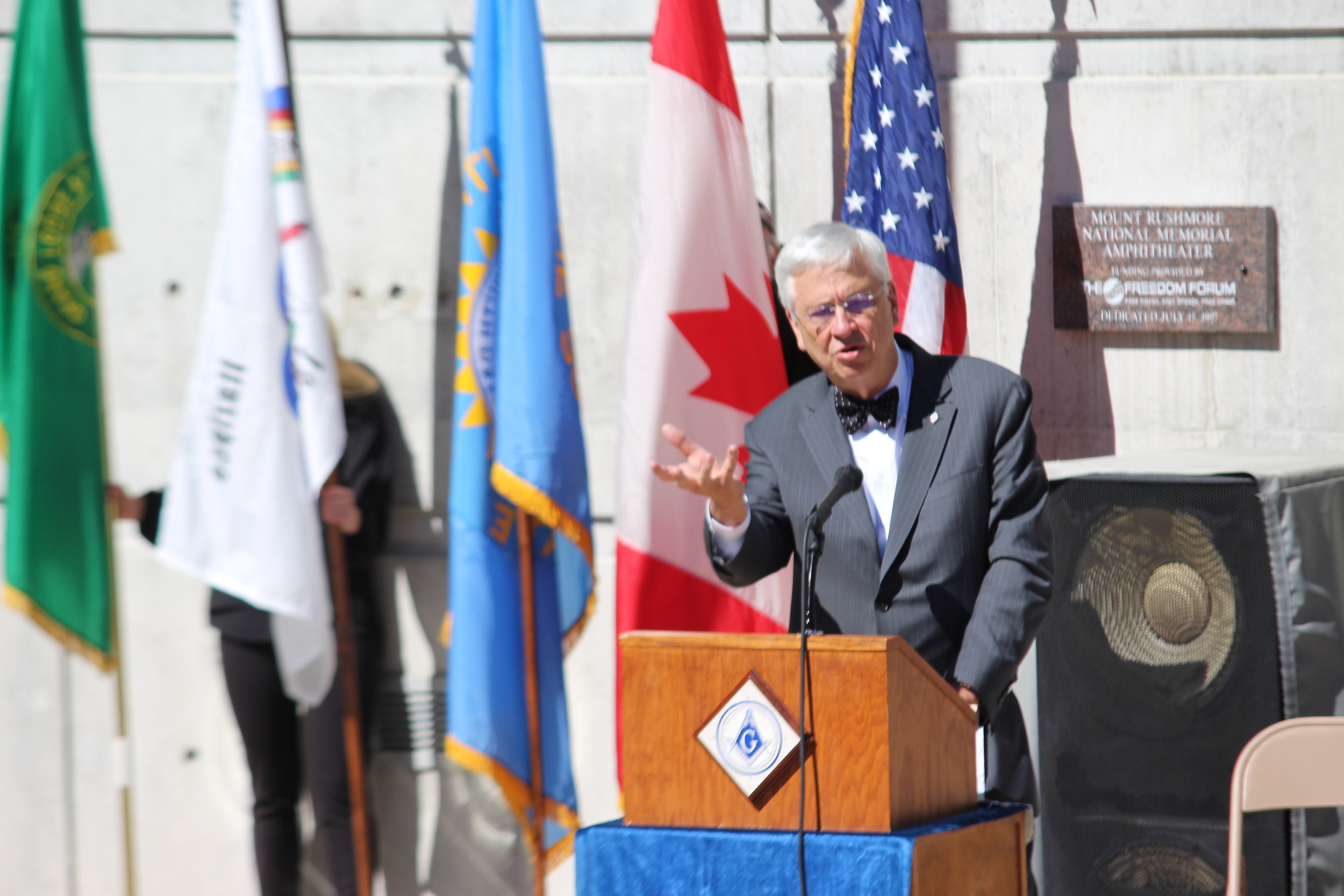 Masons from across the United States came together on Thursday, September 9 with the Grand Lodge of South Dakota to celebrate the 75th anniversary of Mt. Rushmore.
The ceremony highlighted how each of the Presidents on Mt. Rushmore had a unique tie to Freemasonry. George Washington and Theodore Roosevelt were well-known in Masonry, Thomas Jefferson was reputed to have been a member of the Lodge of the Nine Sisters during his time as the Continental Congress' ambassador to France, and Abraham Lincoln was to have expressed interest in joining the Craft after his Presidency.
The emcee was Scott Wolter, forensic geologist, and host of the History Channel's"America Unearthed," as well as a Brother from Minnesota. Brother Ira Briggs, Jr., of Eagle Butte Lodge #172, gave a Lakota invocation, saying that Lakota values and tradition mesh well with those of Freemasonry. Brother Don "Nick" Clifford, last living worker on Mt. Rushmore, spoke about his time working on the Mt. Rushmore with creator Gutzon Borglum.
The keynote speaker was Sovereign Grand Commander Ronald A. Seale, 33°, noting that Masons today are woven into the American community. "When you find [Masons], you find the fabric of America," he said. Mt. Rushmore itself was crafted through the work of many Freemasons, and is a symbol of "the freedom to hope, and to dream, and the freedom to be, and the freedom to accomplish."
In the evening, guests enjoyed a chuck wagon dinner with cowboy music led by South Dakota legend "Stringbean" Svenson. The evening included very funny comedians Williams and Ree, billed as "the Indian and the White Guy," who riffed on everything from the Presidential election, the Dakota pipeline, the "Fighting Sioux" mascot, and the day's events at Mt. Rushmore.