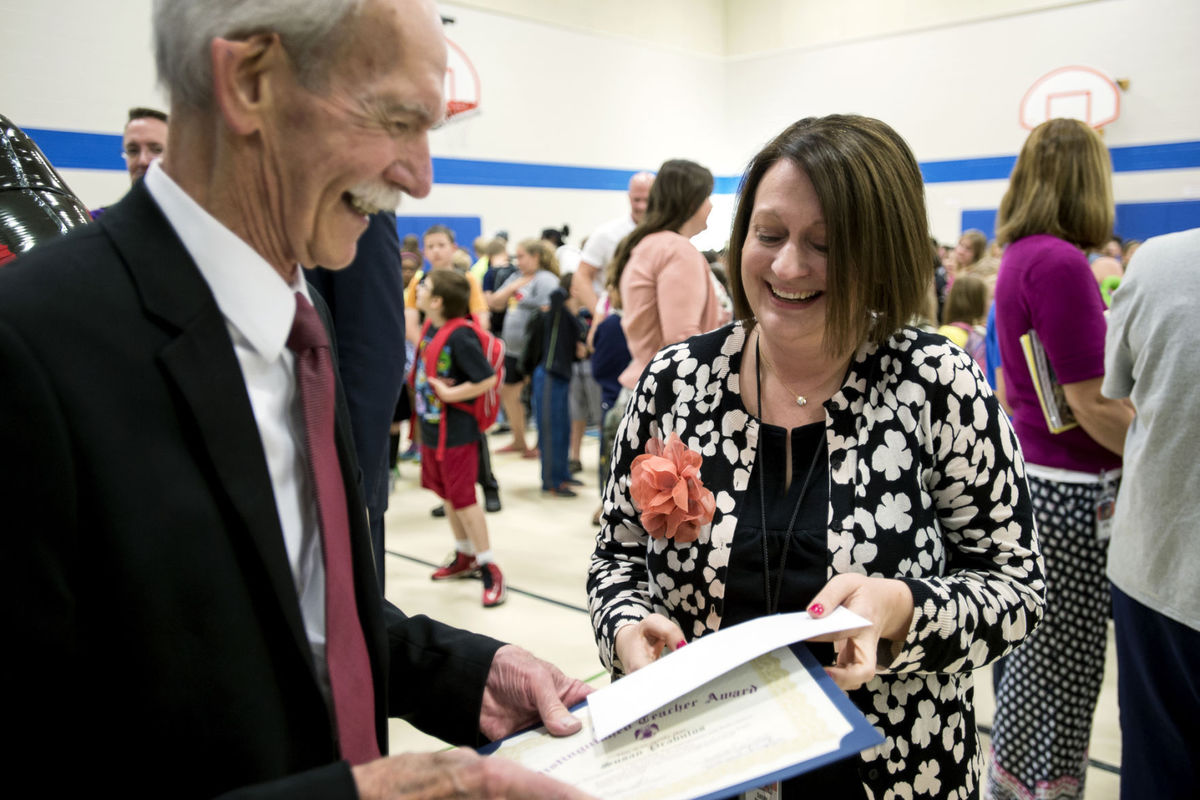 Cheers, tears and a whole lot of school pride were on display Friday, May 13th, at a special teacher recognition event at Lincoln's Meadow Lane Elementary School.
Computer Science teacher Susan Prabulos (above, with Don Gray, 32° KCCH and above right, with Don Gray and Mike Gray, 33°) won the 2016 Scottish Rite Honor given annually to a teacher in Lincoln Public Schools. Scottish Rite is one of the most prestigious awards given to an LPS teacher and comes with a cash prize of $3,000.
"I am so overwhelmed and so humbled," Prabulos said to a gym full of students and staff. Her parents were also surprise visitors.
Prabulos said her classroom continues to astound, "when my students learn, and take something that I've given them and turn it into something amazing that I didn't expect, and when they persevere, and keep trying until they reach a goal...It's so amazing to see how excited they get when they realize they have accomplished their goals."
Prabulos has taught at Sheridan, Brownell and Meadow Lane elementary schools for 20 years. She serves on various school improvement committees, helps with teachers and curriculum across the LPS district, and is recognized as a state and national leader in sharing professional development strategies and classroom instruction.
"She is a servant leader," said Daniele Schulzkamp, Meadow Lane principal. "She is there to serve kids and their passion in technology, and problem solving. She sees how everything she does in the classroom connects to things outside the classroom."
Students and staff were told they were going to celebrate their morning routine with special guests. Prabulos wondered if that was the case, and eventually figured out the routine would be extra special, as well.
"This teacher is passionate about technology, but more importantly, she is passionate about providing learning experiences for her students," said Eric Weber, associate superintendent for Human Resources at LPS, during the surprise announcement.
Prabulos said she was honored to be chosen out of a group of highly qualified teachers throughout LPS. She said she is driven by the work she sees from students in her classroom.
Schulzkamp said students are not the only ones to benefit from the teacher's conviction for educating everyone.
"She's on-call all the time, she is willing to drop what she is doing, she gives up plan times, she's in before school and after school," Schulzkamp said. "She's always there to help staff be able to use technology to enhance their instruction. But not just that, she helps with Community Connections after school, so it's not just technology, but the big picture of all of that.